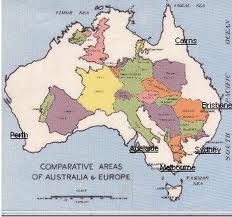 10 avril 2014
After 1 month in Australia, I'm still wondering: what can I learn from this country?
I think that it's the most important reason why Im traveling, I want to learn about culture, religion, people, medicine, geography and myself. Traveling, for me, is the opportunity to get out of your comfort zone and explore what you have never before. Sure, nobody travels for the same reason. But I still want to make you think twice before doing what so many people do : One year WORKING HOLIDAY VISA.
I'ts very popular in Europe, before or after University, you go to Australia for one year.
The plan is usually to work in order to save money and travel around Australia.
I would like to let you know my point of view.
1) Jobs
You have to know that it is not easy to find a "good job". Most people have to work on farms or in factories. So you have to wake up early and work hard everyday, for months, before you can actually travel.
After talking with a lot of people, I can confirm that you have to work at least 6 month if you want to enjoy the 6 others, because Australia is very Expensive.
Yes, you can have a good life experience if you have a good working team with you, you can meet nice people, Australians are friendly.
But you can work on a farm almost anywhere in the world. Do you really want to spend half your year on the other side of the world working on a farm?
2)You want to learn English:
I have seen many French people who told me that they were here mostly because they wanted to learn English. Firstly, when you work on a field, you will be alone most of the time and your English is not really going to improve. Then, there are just too many backpackers, so you will find some people from your country and talk in your language, that's for sure. The sense of total immersion is very hard to experience here.
When I listen to French people talking in English after one year in Australia, it confirms my point of view.
But there are some exceptions, I've also met some French people who had worked in hospitality jobs, and they have good English now.
Anyway, I am still thinking that England is definitely a better option if you want to learn English.
3) I like traveling
I would like you to imagine what you can do in 6 months.
I can help you because I'm now traveling for 6 months, so this is where I have been:
Arab emirates (3 weeks), India (1 month), Thailand (1month), Laos (2 weeks), Cambodia (1 week), Malaysia (2 weeks), Singapore (2 weeks), Hong Kong (1 week), Indonesia (3 weeks) and Australia (1month).
So I've learned about Islam in AEU, Hinduism in India, Buddhism in Sikkim and Thailand, Animism in the jungle of south east Asia, I've learned English, I've learned about many different cultures, I've seen amazing landscapes everywhere, I've met thousands of different people...
Now imagine what you can do and learn traveling 6 months in Australia.
I've only been in Australia for one month now, and I am already going to move. I am supposed to stay 3 months here.
When people ask me why, my answer is simple: I'm bored here. I'm not learning anything, except English. By the way, I'm actually writing in a coffee shop and the music is the last album of Stromae (a Belgium singer). It's cool I really like him.
If you want to see amazing landscapes, Australia is a good spot, I agree.
I'm going to tell you an example of what you can also do in 1 year if you want to "travel, have an amazing experience, learn English and enjoy yourself"
Before this year of travel, work hard for a few months, maybe try to get 2 jobs at the same time in order to save more money.
Then you can start your trip.
Spend your 3 firsts months working in England. It won't be harder than in Australia to find a job, and make a good couch surfing profile.
Then start your road trip in Europe, this is an example.
-1 week in London
-Few days in Edinburgh
-Go to a trip between the big lakes of Scotland and try to see the Loch Ness monster.
-Take a cheap flight to Sweden, stay in Stockholm few days and go to see the famous fjords.
-Then fly to Copenhagen and start a road trip and visit Amsterdam, Berlin, Munich, Prague, Vienne...
-You can do hitchhiking it's pretty safe.
-Go back to France and Paris, visit Le Mont saint Michel and Brittany.
-Go to Lyon, the world gastronomy capital passing through Les Chateaux de la Loire.
-Visit the North of Italy, and go until Greece to see the most beautiful island of Europe.
-Appreciate Croatia, I've heard so many good things about this country.
-Go back and visit Barcelona, Valencia and Andalusia, the culture is amazing.
-Then, you have to spend some days in Madrid before going to visit Portugal.
You can also imagine what you can eat everywhere, and keep in your mind that fish and chips is the speciality of Australia.
This is just an example, you can travel faster and see much more places, it depends on you. Europe is smaller than Australia...
To conclude, I want to be sincere with you and tell you that Europe makes me dream so much more than the wallaby country now...
Pour être informé des derniers articles, inscrivez vous :