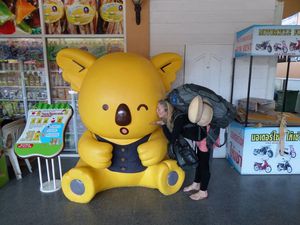 17 février 2014
En voyageant, on a l'opportunité de rencontrer et de discuter avec des gens extraordinaires: des moines, des sâdhus, des imams...
On parle alors de choses existentielles, de spiritualité, de religion...
Ces conversations marquent nos esprits à jamais, c'est sûr.
On échange aussi avec des locaux quand la langue nous le permet...
Puis on rencontre d'autres voyageurs: des cons, des gentils, des hippies, des businessmans, des familles, des gens qui nous ressemble, des gens différents...
Certaines de ces personnes m'ont obligé, de part leur vision de la vie, leurs comportements, leurs paroles, leurs actions...à essayer de voir les choses sous un autre œil.
J'ai donc demandé à ces amis s'ils voulaient écrire, un ou des articles, pour nous transmettre un petit peu de leur pensées..
Le premier est celui d'Angie, avec qui j'ai partagé mon quotidien en Inde, en Thaïlande, au Laos et au Cambodge.
Elle est Sud-africaine et a 26ans. Après avoir obtenu son diplôme de business en Afrique du sud, elle a passé deux ans à San Francisco, un an en Corée du Sud, puis a voyagé pendant 4 mois en Asie, avant de retourner en Californie.
The People We Meet
We all travel for different reasons: To experience a new culture; learn about a religion, history or something of interest; to party; to relax; for business or just to gorge ourselves on the local cuisine. To achieve something, to do nothing, to escape everything, or just for another stamp on your passport. Whatever the reason for your travel, what can create the best memories or have the biggest impact on you, are the people you meet.
Throughout your travel you encounter new people everyday. Locals and travelers alike, they all have a different story. And every single one of those people you'll have something in common with: where you are; where you've been; where you're going; an interest; a philosophy or a perspective.
Most, you'll just enjoy a passing conversation with. Perhaps you'll exchange email or facebook details in case you cross paths in the future, but probably you'll never see them again.
Then there're the people you meet that you'll never forget. It may be that you only spend a few hours together or even a few weeks. But you find something in that person that you truly connect with.
I've been blessed to have many of these encounters during my travel. I have learnt so much about other peoples' cultures, religions, beliefs, perspectives and ideas. I have learnt more about myself, about love and about the important things in life, like inner peace and happiness. All these lessons were realized through my encounters with people I allowed myself to connect with.
A reiki master in Delhi forced me to admit some hard truths about my emotional past and present that I need to overcome in order to have a fulfilling future.
A monk in Sikkim taught me more about Buddhism and helped me understand that happiness, peace and love are within, are ever present and are in our control.
A beautiful Polish yoga teacher showed me the power of meditation and healthy living as a whole - spiritually, mentally, emotionally and physically.
2 British, a German, a Dutch, a New Zealander and 3 Swedish girls reminded me that I'm not crazy! That we're all looking for love, we all go through heartache and we all pick ourselves up and carry on with the hope of someday meeting our person.
The connection that I treasure most is the one that I had with an amazing guy who I was lucky enough to travel with for over 6 weeks. Being with someone 24/7 in the best and worst situations that only traveling can bring, really reveals a persons strengths, weaknesses, qualities and flaws. Though we had our ups and downs, it was with him that I pieced together many of the things I've learnt. He showed me the importance of personal achievement and a purpose-driven life. He's made me want to push myself further and to realize my personal legend. And for that I'll be forever grateful.
There's been countless other moments too. Small exchanges that have helped me to understand a little more about life. All of these moments have one thing in common: I dropped my guard and allowed myself to connect.
And that's where I conclude. You're not going to have these moments with everyone you meet, they wouldn't be special if you did. But when the opportunity arises, let down your wall and exchange from the heart. The beauty of meeting people when you travel is that it's now. It's who you are and how you feel in that exact moment, no prejudice or expecations. It makes the difference between someone that travels and a traveler... open your eyes, heart and mind. And give. Give what support, knowledge and understanding you can. And you shall receive bountifully.
Be true. Be kind. Be happy.
Pour être informé des derniers articles, inscrivez vous :